1. Membership is open to all the staff and students of this college
2. The Library works from 8.30 a.m to 5.30 p.m on all working days and study holidays.
3. Two library tickets will be issued to each student and five tickets to the teaching staff. Non teaching staff may borrow two books whereas PG students may borrow three books and teaching faculty borrow five books during the semester, if the respectively need more than two / three / five books they will obtain permission from the Principal.
4. Library tickets are not transferable.
5. Only one book can be borrowed upon each ticket
6. Members should produce their identity card and tickets at the time of borrowing books.
7. Books will be issued to students for a period of 15 days.
8. Members are responsible for all the books borrowed on their library tickets; any damage or loss will amount to replacing the book with the new copy along with fine to be paid by the borrower.
9. Any damage caused to the property of the library will be replaced by the concerned person.
10. Two renewals are permitted for a book if there is no reservation.
11. Books have to be renewed in person at the end of 15 days.
12. Students / Staff are advised to examine and ascertain the conditions of the books at the time of borrowing itself . If there is any damage, it should be immediately brought to the notice of the librarian. Otherwise the borrower will be held responsible for the damage.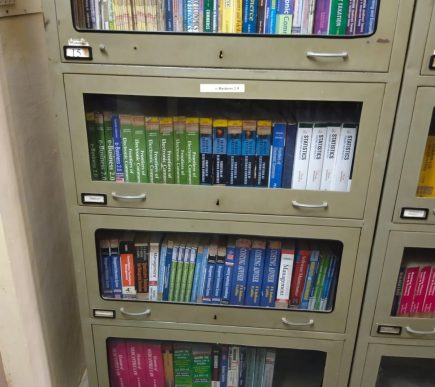 13. Books that are in special demand may be recalled by the Librarian at any time, if required.
14. Absence from the college will not be an excuse for the delay in the return of books.
15. Books, not returned within / on the due dates, will be fined thus:
(a) Rs. 2/- Per day per book up to 10 days.
(b) Rs. 5/- Per day per book 11th onwards.
16. All members should sign register at the entrance of the library and adhere strictly to the rules of the library:
a) On no account, personal belongings, files and other articles (except loose sheets of paper) will be allowed inside the library. They are to keep them at the property counter library at the entrance.
b) Strict silence should be observed inside the library.
17. Students are forbidden to make any marking by pen/pencil or underlining in books and periodicals.
18. Loss of tickets should be reported to the Librarian immediately.
19. Duplicate tickets will be issued on payment of a penalty of Rs. 10/-.
20. All final year students should return their two library tickets at the end of the academic year and obtain a "No dues Certificate" from the Librarian.
(1) Hall ticket for semester examination will be issued to students with "No due certificate" from the librarian, after returning the books & Library Cards.