Principal Message
Ananda College is the firstborn child of R.C Diocese of Sivagangai, providing a higher education of excellence to the rural pocket boys and girls. It is the joy of the institution that it has been imparting a quality education past 18 years mostly to the first generation graduates. Founded in the year 2004 with a hundreds of students, now it has grown up to thousand of thousands students year after year. "Shine in Love" is the motto of the College which caters a holistic education to the wards bolstering the whole globe a "Knowledge-Society". The College is committed to offer a wholesome experience of imbibing sound knowledge, set of skills, attitude and values in a disciplined and distinctive of curricular, co-curricular and extra-curricular activities which assure personal amelioration and global future.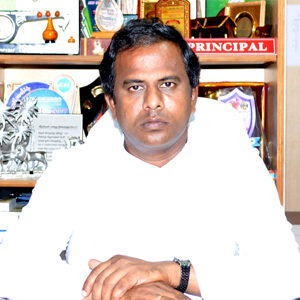 Rev. Fr. S. John Vasantha Kumar
At Ananda – the temple of learning and erudition, the dynamics of learning moves beyond the boundaries of text books learning and four-walled classroom environment but to explore to the hidden possibilities for the intellectual, physical and social participation and career development via actively participating in numerous club activities, competitions, fine arts, sports & games as well seminars, workshops, industrial visits, projects and Institutional-Industrial- Partnership.
At Ananda – the promotion of social responsibility is vitalized through NSS, NCC, Ananda Out-Reach Program, Women Empowerment Cell, Eco Club, Rotract, Leo Club, Youth Red Cross, and AICUF. In addition to, the College has a list of value-added courses, Ethics, Religion, Campus training & recruitment program, placement and mentor-care along with counseling.
Ananda is vowed to cater integrated a quality education to meet out the global challenges and bring out a Life-time leader with human ideals and social responsibility.
With cordial wishes and prayers,
Rev. Dr. S. John Vasantha Kumar
Principal
| | | |
| --- | --- | --- |
| SNo | Year | Name |
| 1. | 2004 – 2010 | Dr. M. L. Jesudass |
| 2. | 2010 – 2012 | Rev. Dr. G. Pushparaj SJ |
| 3. | 2012 – 2016 | Rev. Dr. A. Antony Samy SJ |

Tony Walker
Apps Developer
I thoroughly enjoyed courses from here and hope to expand on my gained knowledge about making apps. The courses as well as the examples are well presented, easy to follow and engaging.

Martin Brian
UI Designer
The courses here exceeded my expectations in many regards, especially in the depth of information supplied. In a very non-threatening environment, I learned key principles of design that I can implement immediately.

David Fahim
Web Developer
Excellent content and assignments that build on your knowledge, reinforce, and then expand. I recently secured new employment using PHP and couldn't have done so without the Professional Web Development courses.
Student's Educated / Year